No this isn't a homage to the song released by Britney Spears in 2000, it's a new game I have purchased!
Despite saying to myself I wouldn't buy into any more game systems until I had cleared (or at least made a significant dent to) my "to do" pile, I have purchased the rules for Lions Rampant.
And some Perry Miniatures War of the Roses miniatures to accompany it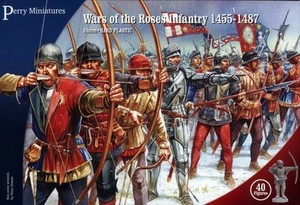 This all started from a picture of a warband as part of this game posted on a facebook group I'm part of, after which I had a conversation with a friend of mine and before I knew it I had purchased the rules...whoops (Although at £11.38 from Amazon I don't think it's too expensive) and well you can't have rules without suitable miniatures.
My name is Turno and I am a wargamer.....